Despite being a person who dislike studying, I actually spent 2 of my birthdays in the library!! Once was last year, where i spent the entire afternoon in library 2 after class... This year, I went to the library after lunch and was there till early evening.! Talk about spending your birthday productively...

Anyway, as I didn't have any celebrations planned out for me, decided to entertain myself by taking my gf out for dinner! She surveyed some restaurants to eat and stumbled into this place called "The Tea Party" in Bukit Timah. It's actually a hang out place where there's sofas and couches for people to play board games in, or you can enjoy a main course meal of pasta and high-grade tea leaves! I never really sit down and enjoy tea (real chinese hot tea) with anyone before.. so, decided to try this place out! The place is very cosy and makes you feel at home. We ordered spaghetti, scones and tea! The scones are FABULOUS! It was hot from the oven and it's crispy, soft, moist and you can feel the butter taste in your mouth! It comes with spreads of jam, butter or cream cheese.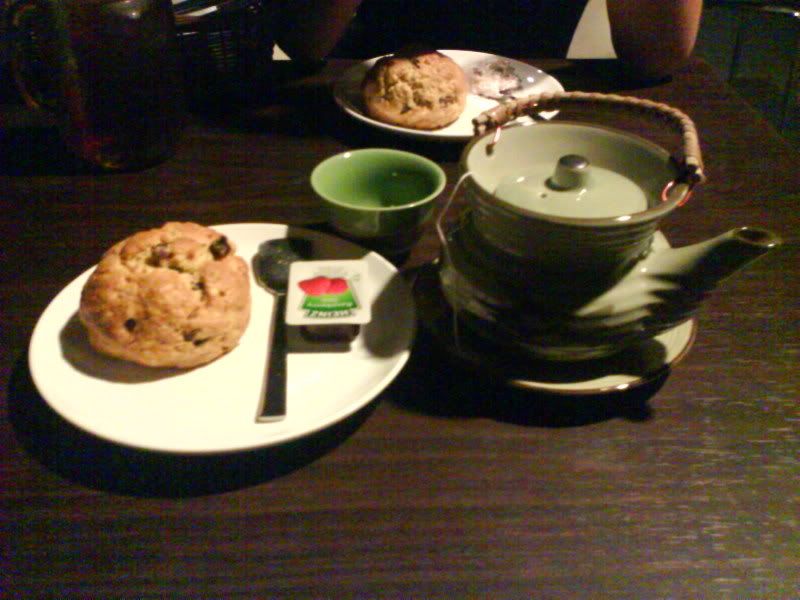 My share of scone and white tea!

Oh, and for my tea.. i ordered this drink called "white tea"... I've heard of oolong tea, green tea and now, white tea! I wondered whether the tea is white in colour... So, i ordered it.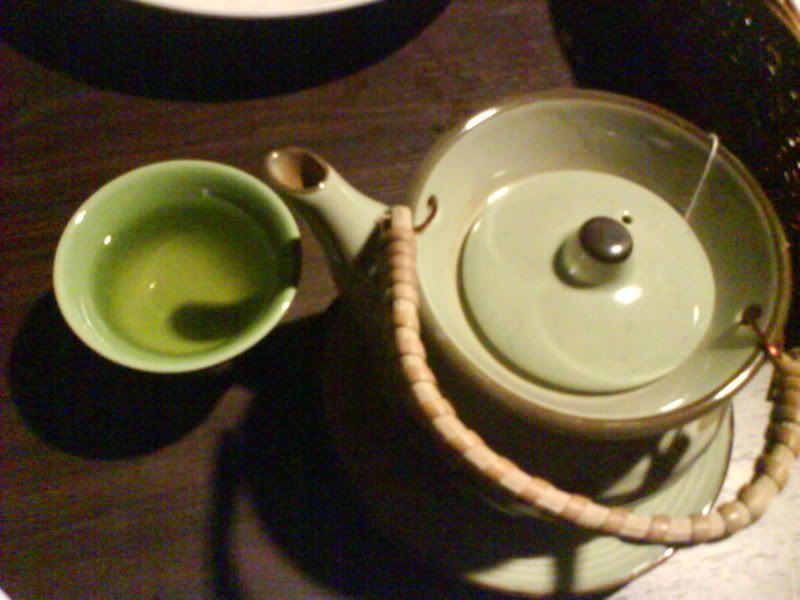 So... it's not that "white" after all.. I guess, it's supposed to be colourless... But the tea was good~! My gf ordered this jasmine vanilla tea (or smtg like tat) which is a flavoured tea. (tastes like some fruity flavoured drink)
Later, it's the main course! Nothing special bout the pasta, except that the spaghetti isn't really made out of spaghetti.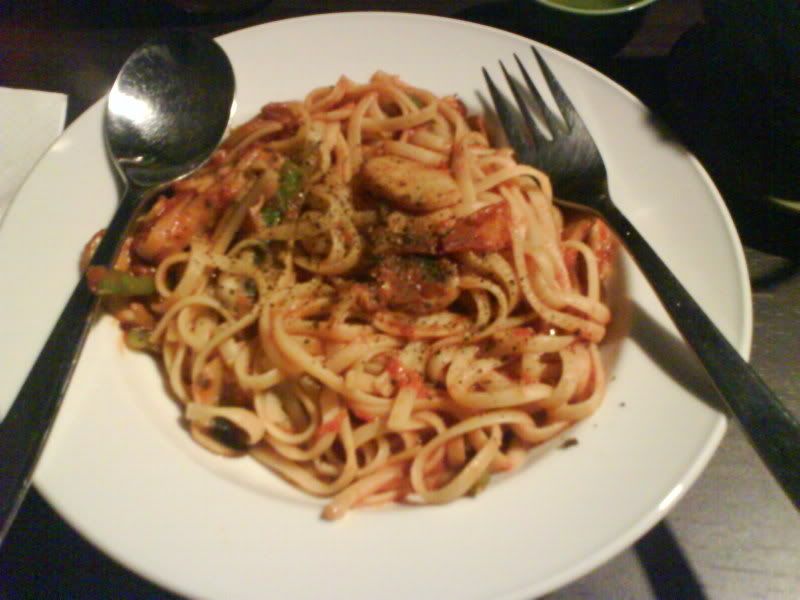 Chilled out a bit... and since there weren't a lot of ppl there, we decided to camwhore a bit...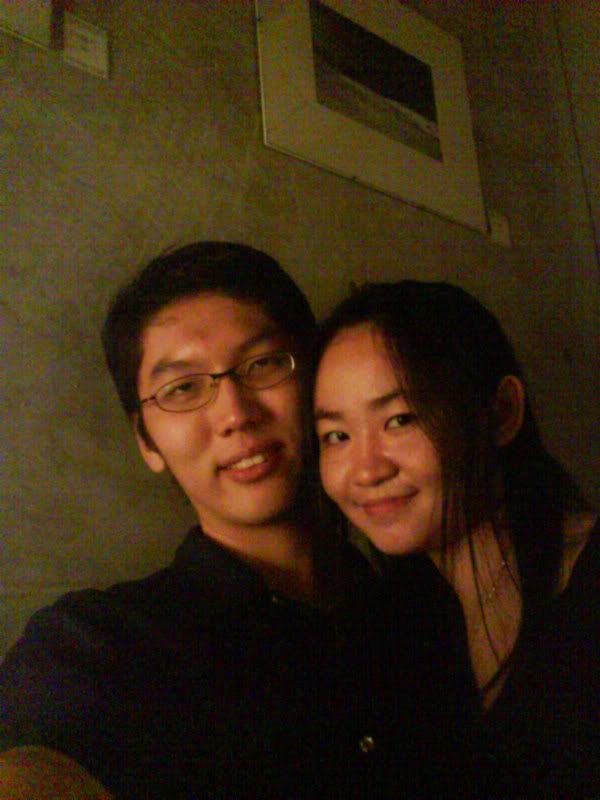 After that, we went to Clark Quay as she haven't been there before. So, took her for a walk and to our amazement, the place was crowded with people! Later, we saw a few groups of people dressed up in their Halloween costumes, some wore horrific masks and played random percussion in the middle of the street. I suppose there was some halloween party going on somewhere there.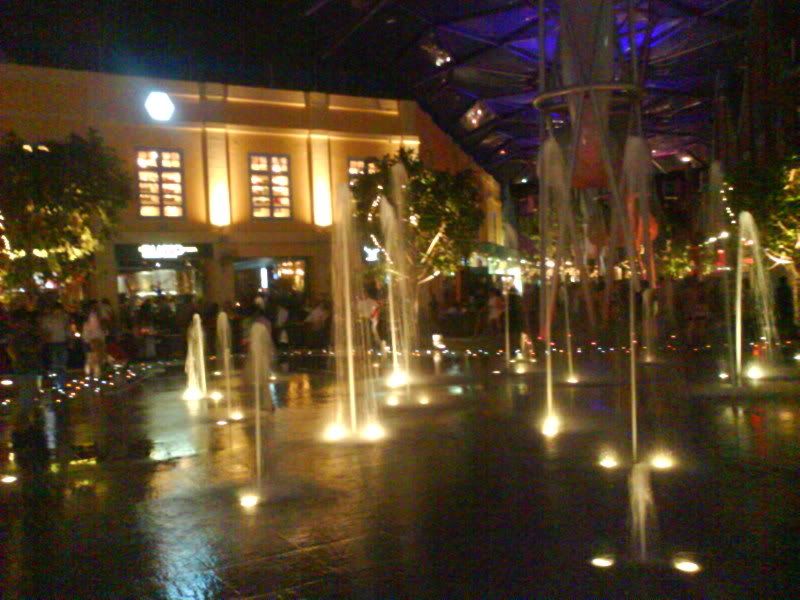 Did I mention that Clark Quay changed alot?! There are more shops and more things to see now. It has become more happening and entertaining for sight-seeing people.
When I reached hall, Hon Yoong they all were waiting for me to celebrate my brithday. It's kinda like an MSA tradition and Hon Yoong only realized that it was my birthday when I was with him in the library. But anyhow, appreciate his efforts to 'organize' a celebration in such a short notice. Would like to thank all for those who came down to wish me despite being in an exam season now. All in all, it was a great and enjoyable day! Contained both studying and entertaining elements in it. =)
--------------------------------------------------