After an exhaustive night the previous day, woke up relatively later to meet up with jit vern, ian, yee weng, ferdi and yen kheng for a cathing up session cum my birthday + ferdi's bday celebration!
We met up in Jurong Point for lunch and ate in Bento Box. It's a Japanese Restaurant but our main purpose was to have a relatively decent meal and a place to update each other with our lifes. Turns out, there are a couple of news from ian, myself, ferdi and yen kheng.. haha.. but it was all fun and crappy.. haha..

Then, we just loitered around JP, did some shopping.. walked about and actually sat in McD and talked there for about an hour without ordering anything!! We wanted to order Ice Cream but the ice-cream machine broke down.... Didn't had fate with the ice-cream. Went back in the evening just in time to do my laundry before a pizza ssesion with my programmer friends.


--------------

Went to Wai Seng and Yi Wang's room at 7pm to wait for the pizza man to come. We ordered 4 large pizzas from 2 different suppliers;
Oishi Pizza
and
Pizza de France
. There was De Zien, Yi Wang, Wai Seng, Elaine Lee, Joe, Shaun and myself!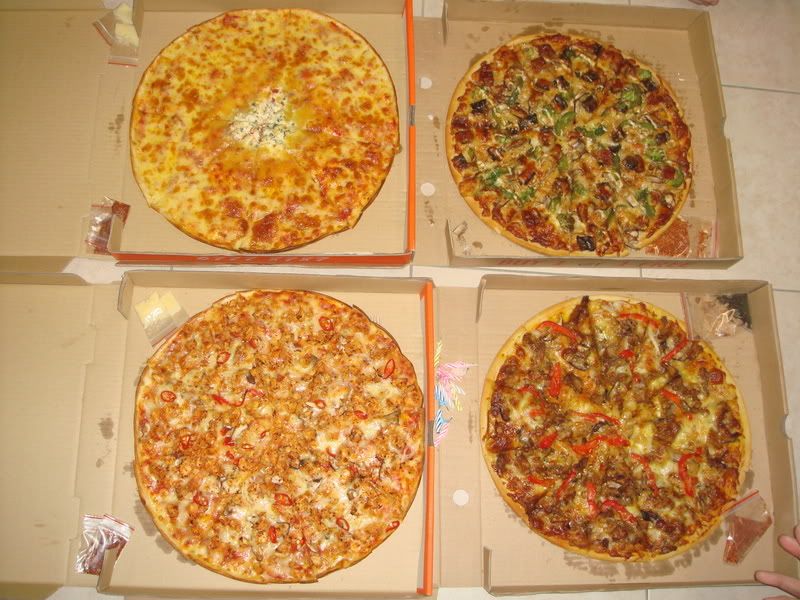 Pizza de France came on time but Oishi Pizza came relatively later.. like about 30-60min late. Anyway, they were so sweeet! When the Oishi Pizza came, they put 22 small candles around both pizzas! (11 candles each). Sang me the birthday song and asked me to blow out all the candles in one breath.. haha.. i was left with 3 candles... does it mean i'm forever 19? haha..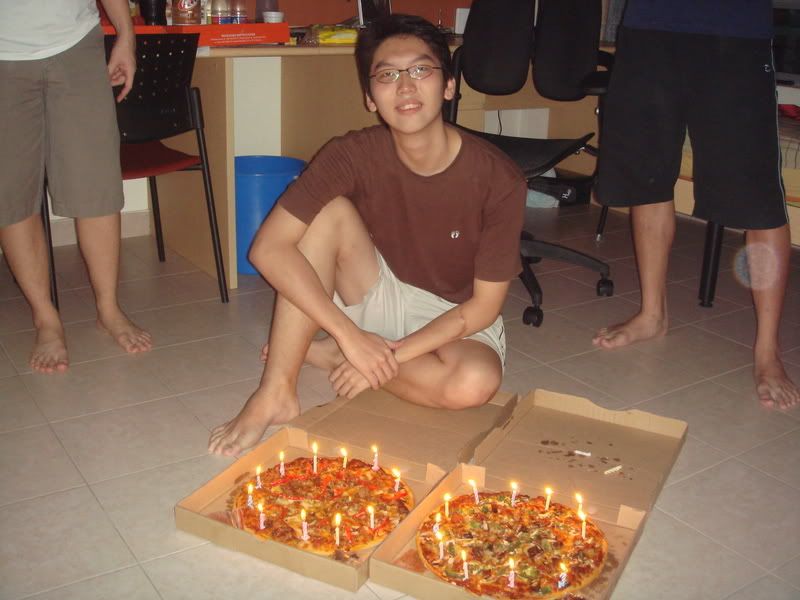 The meal was S-P-E-C-T-A-C-U-L-A-R! Never doubt Elaine when it comes to food! All of us ate till we can't eat anymore... I myself, I think I ate 7 slices. And all of us were very full after that. Anyway, something nice about being with these 2 group of friends is that... we just 'hang out' and 'chill'..... Can just generate crappy and nonsensical statements out of nowhere. Well, probably the only difference is that... I'm not that crappy when I'm with the 2nd group (wai seng, de zien they all). Don't know why, but prolly not as close yet? Nevertheless, really enjoyed myself with them.
After food, we decided to play a game of 'mafia'. But erm, it wasn't just ONE game.. We played lots of rounds with different number of people and different people. Was basically short of people and decided to call laifai. Then, yiwang left for a while, and shaun left a while, but was substituted by zhi sin who came in later. At first, I didn't really enjoy the mafia game cause I was only exposed to that game in previous year's FOC and it was.. well, kinda boring... Prolly the group was too large and the "kind" of ppl who are playing it. But... this was even more fun than bridge~! haha... Guess who you're playing with really counts eh? Had so much fun...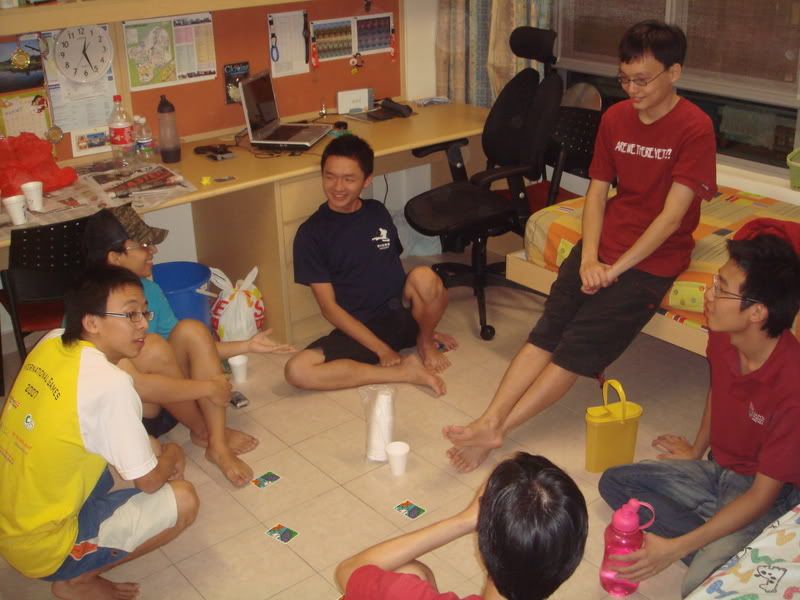 The guys sitting around playing "mafia"
We played till like after 1am and decided to call it a day when we realized it was getting kinda late.. So much for being in an exam mood.. The past 2 days was really relaxing and entertaining... The better days of my university life.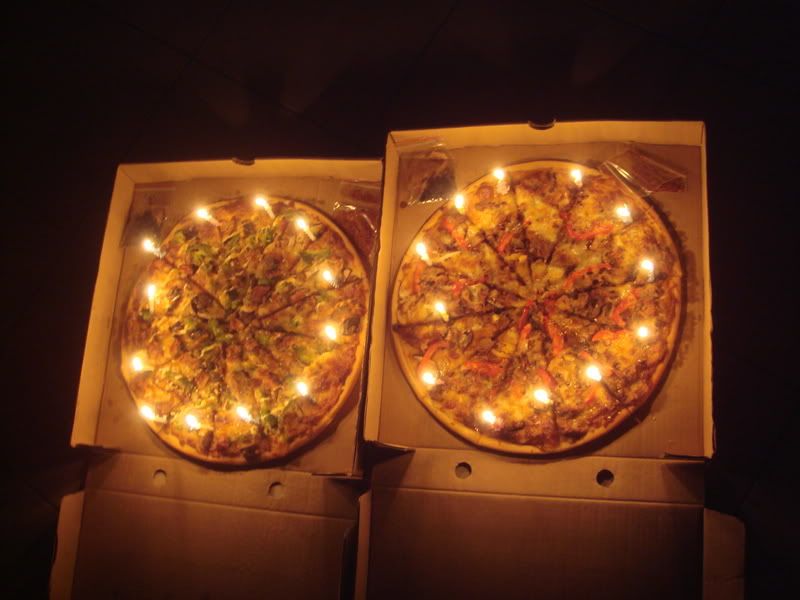 --------------------------------------------------