As i couldn't slept soundly last night (due to some stupid insomnia), felt kinda tired when i woke up in the morning.. Parents bought back breakfast for me and fetched me to JJ where we're supposed to meet in front of coffee bean at 930.. and i reached there at 930 sharp..

At first, I couldn't see anybody in front of CB.. but as i walked closer, some guy looked at me "friendliny" and smiled at me.. so, i suspected he's one of the PM members lar.. then he gave me this sign language of a person taking a photograph, i reached out my hand.. and shook his... he's "mic". Not long, 2 man came along, apparently, they happen to be 'zaman' and 'hliew'.. later, 'jetfynn' came.. and found "sebelas" lurking around at the entrance.. it was almost 10 and we were still waiting for the remaining ppl.. 'maxby' came in a waja together with 'gliblit' at around slightly after 10.. oh, there were also zaman's staff... maniam (van driver) and another malay guy...

We left to ulu chepor waterfall at 10 something.. kindly, 'hliew' offered me to use his Canon EOS-1D Mark II with all the accessories all attached ; the super heavy lens.. i think that camera weighs almost 5kg or so.. The others made the remark like "woah!! what a big camera" and "jetfynn" who happens to be quite a pro made a remark that the camera is one of the very good high end cameras around.. We ate our breakfast in a malay stall at the entrance of the waterfall.. there, maxby showed us some of his 'antique' cameras where it's mechanical and doesn't need a battery to be operated.. Later, he showed us a wide-angle camera that goes up to 173 degrees wide.. and also a 2 lensed camera.. Anyway, we made our way through the trails and went on our separate speed, taking our own sweet time to take pics.. And as i was just a newbie, i just fooled around and take some stupid pictures of the rocks and the waters... haha.. even took a shadow of myself... went all the way deep inside until we reach a place where we consider it as the "waterfall".. (the rock is quite high up and the water just falls down)

after that, we went to jetfynn's photo studio in bercham where we just lepakked and chit chatted there abit... But we were there for a while cause all of us started to get hungry.. Unfortunately, jetfynn couldn't join us cause he got a model shoot out at 3 later... we went to menglembu for lunch at this place called "good's shack" (or something like that).. this zaman, go order food la.. he ordered 2 types of chicken, 2 types of fish, mutton, KING sized prawns, vege, etc. There was so much lar... and we ate quite a lot.. haha... luckily, we managed to finish all the major dishes and left the vege and stuff unfinished.. it was zaman's treat.. in fact, breakfast also was his treat..

They decided to go to lumut after lunch where we visited the "mangrove park"..we slept on our way there as it was quite far away and a looongg road trip.. well, the trail was quite broken down as all the bridges wasn't properly maintained.. they stopped half way cause they think it's too dangerous to go further on... but i did go further in instead.. lol... was so afraid i would drop off (not my life, but the camera!!) it's like some obstacle course.. but it was fun lar.. haha.. over at the entrace, there's alot of monkeys wan.. and they're greedy!! i offered my drink to them, and they just deliberately take it out from my hand, open the cup's cover and drank the sugar cane water.. haha.. how cute... when we wanted to leave the place, there was this commotion at the entrance.. apparently, a monkey stole some malay lady's handphone.. then they monkey go climb up.. the phone rings and the monkey got bite the phone.. haha.. pity the lady..

it was getting late and maxby wanted to call it a day... but then, we decided to go to the beach for a while since it's just nearby.. at first, i was hoping to take some sunset pics, but it was still early in the evening... not even 5 yet.. so, we just experimented on the pictures lar.. gliblit got a very nice pic though.. think i'll ask him to send it to me.. haha.. :P we left at around 6 plus.. reached jj at 8pm.. although it was tiring, but it IS sure fun!.. first time outing with unknown ppl where i've only heard of them by their nicks.. haha.. think i'll go to bed and sleep now... *tired*



a pic i took against the sunlight.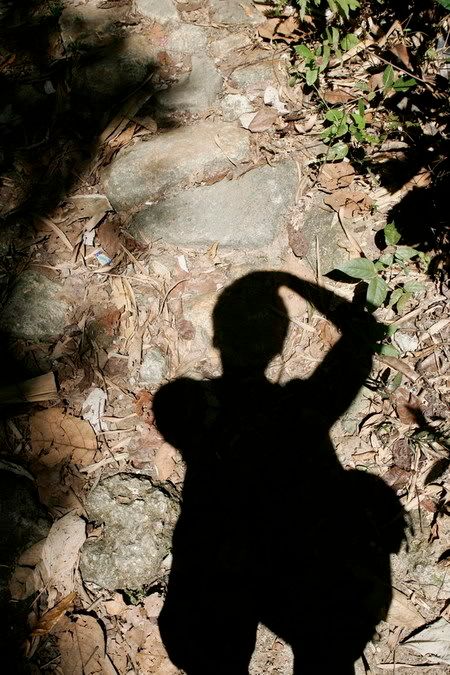 me and my shadow!



pls, it's not something fat mou!!



waterfall..
--------------------------------------------------