Finally, a time when i can get out from the heat in ipoh.. our trip begins at 1100 where our bus departs from the keris genting agency.. it only takes me 5 min to pack up everything... haha.. luckily yee weng dind't come that early.. still had time for me to upload songs to my mp3 player.. :)

we took a video b4 boarding the bus.. and we had the whole bus all for ourselves..(with just one or 2 extra ppl inside) we sat 3 in a row with ian, bj and yw in one WHILE me, oj and jason sat behind them.. ian slept throughout the ride, bj and i listening to mp3s while the others watched kickboxer.. it took approx 3 hours to reach cable car station...

sat on the cable car, enjoying our view of the scenery around.. this jason dunno why keep on looking for dinosaurs when there's none around.. the air's getting colder as we move on higher up.. hoping to see some pretty gals on the cable car oopposite us.. lol... btw, we got abit pantang bout out trip.. cause the fare is RM'48'.. and then, our cable car is number '44'

once we 'landed' on the other side, we headed straight towards first world hotel where we checked in our luggage.. damn, if i've known better, i should have went for hotel management.. lol... some of the front desk gals are actually quite pretty.. bj and i actually had this 'sniping' competition.. to get quantity and quality of babes in genting.. (sick eh? yeah, i know) and i had the best pic of the girl in counter 20... lol.. and guess wat, our room is in floor '14'!! (our room numbers are from 650 - 652)

all of us 'crashed' the first room (652).. put all our luggages there.. then EAT!! the food i tell you, it's so blardy expensive.. although our packages is free, but the food could kill you@! we went to KFC to eat.. and we ordered a family treat... we were starving by then.. Surprisingly, yoong sin is around genting and wanted to join us.. apparently, he's working in the hainan restaurant.. we wasted RM6 on the stupid motion master.. it's not scary or thrilling.. the only thing that they succeeded is to make me feel dizzy.. due to bad graphics, bad animation and stupid "virtual swirling".. the movie's about car racing.. dumbass.. cause jason said the prev time he went, it was some dinosaur thing and they even got 3f goggles to wear..

after that, we explored around the place... taking pictures of erm.. everywhere!! realised that we dind't have anything for breakfast the next morning, we went to ria apartment to shop for cup noodles.. it was a long way down and an even looonger way up... the slope's like tilted more than 30 degrees.. but the best part was the photo taking while enjoying the cool air gentings... we purposedly walked outside the perimeters just to get the fresh air.. we were so creative with the pictures, that we could just pose anytime we want.. haha.. even made some silly pics.. (well, most of them actually) then, during sunset, we could see the horizon, the change in colour of the skies.. the moon in the blue skies, then the red horizon, then the dark sky.. (so ghey.. sigh..)

our dinner was JUST cup noodles cause we had late lunch also lar.. but we met up with kf after that and he took us to this 'staff canteen'.. supposedly, the food there is as cheap and nice as ipoh.. and it's kinda true lar... all std ipoh price.. not like the ones in the hotels.. that was more for supper lar.. haha.. (and because some of us was still hungry)..this tubby wanted to sleep with us cause he says his hostel sucks... then jason suggested him choosing a room.. "A, B or C" in whihc he chose B which was jason's and oj room.. lol.. then they complain later cause kf snores very loud wan... haha...after that, we sat and lepakked at the 'main garden' i call it.. where the 3 hotels meet.. took pics there too.. but it turned out to be quite blurry lar.. cause it's a night shot after all and we're not that experienced in taking it.. (not to mention our camera's are not built for it)

met up with jason chi after his work and we went to starbucks for a drink... actually, most of them didn't drink cause wanna save money... most of us had hot chocolate (including myself) where jason chi had this 20% staff price..oh, then there's this counter 8 girl that we saw few minutes ago and we asked chi about her.. apparently, he said that she's the most beautiful girl there and every guy in the front desk will be chasing after her.. lol.. then there was this incident when there was this guy who chased her for one day, and the next morning.. her neck's filled with love bites.. haha...(her harga saham turun mendadak).. by the time we left starbucks, it's already 12 plus and it's about time for us to head to our rooms.. well, one room actually.. haha...

oh, our 'room stories'.. lol.. at first, it was after our dinner.. and we had nothing to do.. so, we played some stupid card games.. where each of us represents a single card... then we played this "who has the.... " game. Boon Jin won the award of having a heart-shaped, dysfunctional dic; who is gay ; mei yin loves him; most handsome.. haha.. Yee Weng won the sexiest butt;has the smallest anus (cause of the cable car event tmr); loves mei yin; nipples like raisin.. Ian ar.. i only remember him wanting to give a blow job..lol.. Jason has the smallest dick.. haha.. 3 out of 4 times he won that award while OJ wons the one with the largest dick; has a heart shaped shit; and is not a virgin.. while me, i only won one and i forgot what is that.. lol... then, we decide whose gonna sleep with who.. i end up sleeping with bj, oj with jason and ian with yw.. ian with yw paling pitiful wan.. cause they're supposed to sleep in the current room where we trashed!! haha.. so all messed up.. there was this 'freaky' incident where we played the 'pair up game'.. each of us will have our 'counterparts' where ian's one is joanna, jason - sizuka, yee weng- mei yin, sai - ei leng, boon jin - michelle and OJ - jonathan aka bek cheng.. lol.. then, jason took the 'female deck' while i took the 'male deck' and we shuffled.. next, we put the cards together randomly.. and the results... lol.. you wouldn't believe it.. everyone got back their OWN counterparts.. well, except for me and OJ.. OJ got ei leng and i got bek cheng!! what's this?!?! haha.. imagine the odds... anyway, the rest of the room events is just playing cho tai di and speed...

slept at 2 plus and i woke up in the middle of the night cause i got nose bleed.. hehe..


sample of some pics being taken..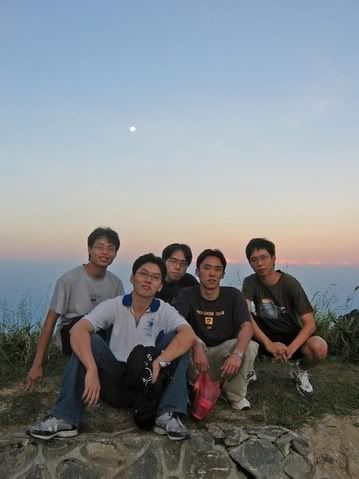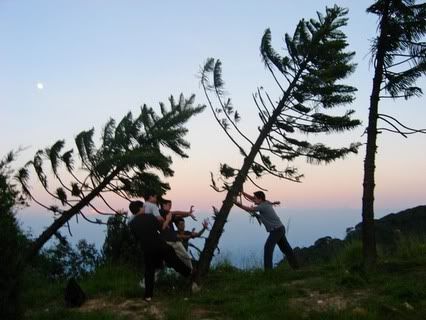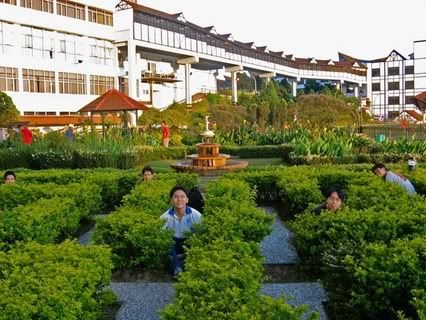 --------------------------------------------------